The Financial Services and Markets Authority (FSMA) warns the public against fraudsters that usurp its name and logo to mislead consumers and commit recovery room fraud.
The FSMA has learned that fraudsters who put themselves forward as employees of the FSMA are contacting victims of investment fraud, promising that they can recover the money they lost. They ask the consumers to pay a fee for this purpose. This is known as recovery room fraud.
The fraudsters send letters to this effect to their potential victims: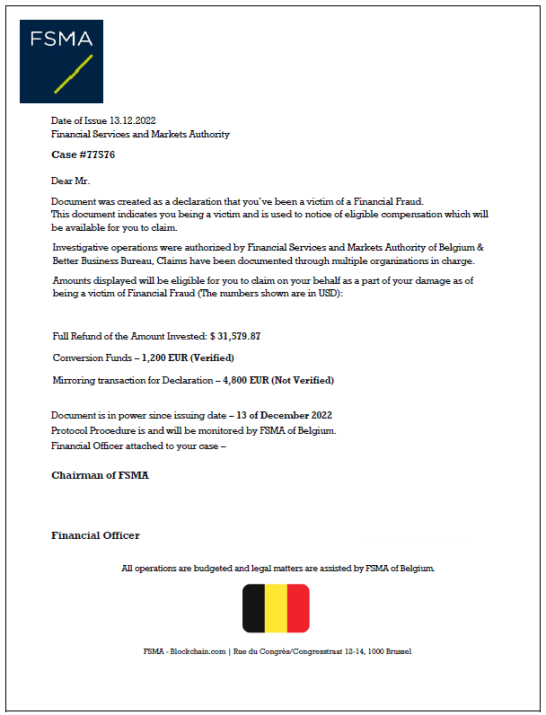 They do so using the following email addresses: no-replyfsma@outlook.com, ldavis@finglobalsolution.com and recovery@tfsma.com. Emails originating from such addresses do not come from the FSMA and must be considered fraudulent. The FSMA advises consumers who receive an email from such an email address not to respond but simply to delete the email.
The fraudsters usurp the identity of the FSMA in an attempt to take money from their victims or to trick them into revealing information. The FSMA has therefore forwarded this information to the judicial authorities.
The FSMA advises consumers to be extremely careful if they receive unsolicited messages and, in particular, not to respond to any requests to transfer money for financial services or products that are supposedly offered by the FSMA. The FSMA is not a financial institution and does not offer consumers any financial services or products. Moreover, financial supervisors such as the FSMA are not authorized to recover lost investments. They would thus never contact victims of investment fraud. Lastly, the FSMA wishes to emphasize that it never asks consumers to provide their financial information or to pay for any services. If you have the least doubt, please do not hesitate to contact the FSMA directly via the consumer contact form.